---
Edwin G. Nourse, 1883-1974.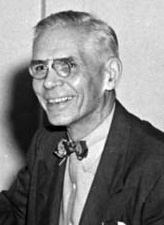 American agricultural economist and US government advisor.
Despite his suburban Chicago roots, Edwin Griswold Nourse studied agricultural economics at Cornell, and after a few interruptions, finally obtained his Ph.D. in 1915 from the University of Chicago. While teaching at the University of Arkansas, Nourse wrote his first work. In 1918, Nourse joined Iowa State College, as head of its agricultural economics department.
In 1923, E.G. Nourse was recruited by the newly-founded Brookings Institution in Washington DC, to take charge of its agricultural research wing. He would remain there for the next two decades, eventually ascending to Director of Research in 1940.
In 1946, President Harry Truman selected Edwin Nourse as the first chairman of the Council of Economic Advisors. Nourse would remain there until in 1949. Although Nourse presided over the Employment Act of 1946, his tenure at the CEA was marked by rivalry between the relatively conservative Nourse and his younger and more radical colleague, Leon Keyserling. Nourse eventually resigned in December 1949, when he felt that Keyserling's policies were pushing the country into inflation.
---
Major Works of Edwin G. Nourse
Agricultural Economics, 1916
"Agriculture", 1929, in E.E. Hunt, editor, Recent Economic Changes in the United States, p.551 [nber]
America's Capacity to Produce, 1934.
Economics in the Public Service, 1953.

Top
---
Resources on Edwin G. Nourse
Edwin G. Nourse papers at Truman Library
Edwin G. Nourse: Economist for the people, by J.G. Knapp 1978
Knapp's Nourse review at BHR

Top
-----------------------------------------------------------------------------------------------------------------------------------------------------------------------------------------------------------
---
All rights reserved, Gonšalo L. Fonseca