Samuel Jones Loyd, Lord Overstone, 1796-1883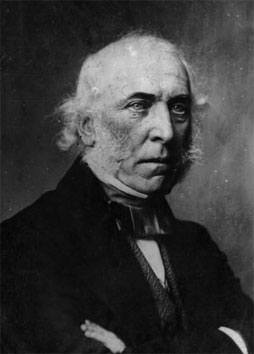 British banker, leader of the Currency School, and principal architect of Peel's Banking Act of 1844.
Samuel Jones Loyd (not "Lloyd"), known as Lord Overstone after 1850, was the son of Lewis Loyd, a Welsh dissenting minister, and Sarah Jones, heiress to a banking family. Also out of that union would come forth the bank of Jones, Loyd & Co. of Manchester.
The junior Loyd was educated at Eton and Trinity College, Cambridge, graduating in 1818 and taking up a position in his father's bank. He entered politics immediately, representing the Parliamentary seat of Hythe for the Liberals from 1819 to 1826. Loyd's banking experience made him one of the leading experts on monetary and banking matters in Parliament. And even after having lost his seat, Loyd continued to be called on for consultation by the ministers of the day.
After the financial crisis of 1825-26, Parliament broke the Bank of England's monopoly by lifting the prohibition on establishing joint-stock banking companies (albeit note-issuing was limited to outside of London). The sudden growth of new banks - and associated speculative excesses and spectacular failures - were a cause of serious concern.
Loyd positioned himself at the head of Currency School in the debates of the 1830s and 1840s. The the country bank disturbances of 1836 and the revelation of the "Palmer Rule" in 1830s - that the Bank of England had been maintaining a gold reserve-liabilities ratio of one third - provoked Loyd's 1837 pamphlet denouncing the rule as evidently inadequate. Loyd proposed a stricter "Currency Rule", that is, that the Bank should hold 100% gold reserves on note issues, which would thus make banknotes "just like currency", and thus eliminate any room for discretionary monetary policy. He also demanded a "single bank of issue", eliminating note-issuing country banks and extending the Bank of England's monopoly over all England. In pamphlets and parliamentary evidence, Samuel Jones Loyd railed on the ills of allowing more than one bank of issue and called for tighter restrictions.
The Currency School gained ground and converts, most notably Sir Robert Peel. Loyd virtually authored the 1844 Bank Charter Act ("Peel's Act") imposing the Bank of England's monopoly on issue, tying note-issue strictly to gold reserves and severely restricting the creation of joint-stock banks. The latter restrictions would be gradually lifted in 1858-62, but the remainder would continue in force until World War I.
Loyd succeeded his father as head of the Jones, Loyd & Co. bank in 1844. Curiously, in 1864, Jones, Loyd & Co. would be merged with the London & Westminster bank, one of the 'new' joint stock banks (founded 1834) which he had so opposed, and had been managed by his free banking school rival, J.W. Gilbart.
Loyd received a peerage in 1850, being made the First Baron Overstone of Overstone and Fotheringhay. He was also the last. Upon his death, with only a daughter, the Overstone title became extinct.