---
Myron S. Scholes, 1941-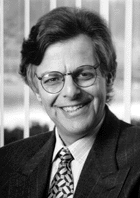 Canadian finance economist.
Myron Scholes obtained his Ph.D. from Chicago in 1969, under Merton H. Miller. He subsequently joined the faculty at MIT, where he met Fisher Black, and developed the Black-Scholes option pricing formula in 1973.
Scholes moved back to Chicago in1973 and, since 1983, Stanford.
Myron Scholes won the 1997 Nobel Prize together with Robert Merton for their derivative pricing formula.
---
Major Works of Myron S. Scholes
"The Valuation of Option Contracts and a Test of Market Efficiency", with F. Black, 1972, J of Finance
"The Capital-Asset Pricing Model: Some empirical tests", with M. Jensen and F. Black, 1972, in Jensen, editor, Studies in the Theory of Capital Markets
"The Pricing of Options and Corporate Liabilities", with F. Black, 1973, JPE
"The Effects of Dividend Yield and Dividend Policy on Common Stock Prices and Returns", with F. Black, 1974, J Financial Econ
"Taxes and the Pricing of Options", 1976, J of Finance
"Dividends and Taxes", with M.H. Miller, 1978, J of Financial Econ

Top
---
Resources on Myron Scholes

Top
-----------------------------------------------------------------------------------------------------------------------------------------------------------------------------------------------------------
---
All rights reserved, Gonšalo L. Fonseca