---
Charles Franklin Dunbar, 1830-1900.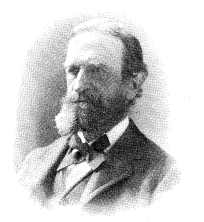 Charles F. Dunbar was the head of Harvard economics during the first quarter-century of its existence.
A self-trained economist of the Classical and apologist stripe, Dunbar's background was in Harvard Law. From 1856 to 1869, Dunbar was part-owner and editor of the Boston Daily Advertiser. After two years of training in economics in Germany and England, Dunbar was appointed to the first separate chair of political economy at Harvard in 1871, replacing the controversial Francis Bowen. Dunbar's courses relied primarily on classical texts, like Smith, J.S. Mill, Cairnes and Fawcett.
Dunbar took on a wide variety of duties at Harvard, serving for a while as dean (1890-95). Dunbar collaborated in President Eliot's man in his attempt to recast Harvard as a modern research university. Dunbar's first research student was Stuart Wood, and he served as mentor to younger colleagues like Silas M. Macvane, J.L. Laughlin and Frank W. Taussig. Dunbar was also the founding editor of the Quarterly Journal of Economics in 1886.
Schumpeter would later write dryly of Dunbar, "And so, though not a great economist in the sense appropriate to this book, he was a great economist in the sight of God." (Schumpeter, 1954: p.866)
---
Major Works of Charles F. Dunbar

Top
---
Resources on C.F. Dunbar
"Review of Dunbar's Chapters on Banking and Dunbars Laws relating to Currency, Finance and Banking", by E.R.A. Seligman, 1891, PSQ (Sep), p.571 [js]

"Dunbar, C.F.", 1899, National Cyclopedia of American Biography, v.9

"Charles Franklin Dunbar, Professor of Political Economy in Harvard University ", 1900, QJE (Feb) p.285 [js]

"Charles Franklin Dunbar" by F.W.Taussig, 1900, Harvard Monthly [p.187]

"Professor Dunbar" by J.L. Laughlin, 1900, JPE
"Charles Franklin Dunbar", by Charles W. Eliot, 1908, in J.T. Morse, Sons of the Puritans, p.59-93 [bk], [av]
"Old Generation of Economists and the New", Alfred Marshall, 1897, QJE [p.1]

Top
-----------------------------------------------------------------------------------------------------------------------------------------------------------------------------------------------------------
---
All rights reserved, Gonšalo L. Fonseca