---
Economics at University College London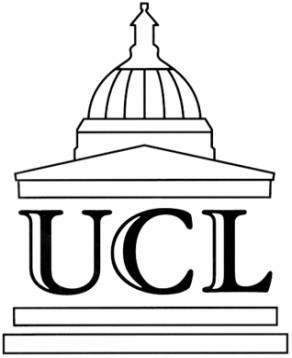 [Note: Part of the HET Website. This page is not related to or endorsed by University College, the University of London or any other organization. See the official University College London website]
University College London (UCL) was founded in 1826 as "London University", and reorganized in 1858 as a constituent college of an overarching "University of London".
For centuries, London had remained one of the few European capitals without a university. There were some institutes of higher learning -- Gresham College, founded by Thomas Gresham in 1597, funded professors who held public lectures in London, but took no students nor awarded degrees. While Scotland counted four major universities (Edinburgh, Glasgow, Aberdeen, St. Andrews), England made do with two (Oxford, Cambridge).
Mechanics Institutes
The London Mechanics' Institute (future Birkbeck College) claims to be the first college in London still extant. It was part of the "mechanics institute" movement of the 1820s to provide modern technical education for adult working people. Its primary purpose was to bring machinists, artisans and engineers of the burgeoning Industrial Revolution in contact with the principles and latest research in modern science, principally physics and chemistry, with a view to their practical application to solving problems and improving industrial machinery. Its origins trace back to 1796, when University of Glasgow professor John Anderson, who had routinely conducted public lectures on the practical applications of science, endowed an institution (initially, just a single professor) to continue the effort. In 1799, the Scottish physician Dr. George Birkbeck was appointed to the Andersonian institute. Seeing an interest by working class students, in 1800 Birkbeck launched the first special course for mechanics. In 1804, Birkbeck left Glasgow for London, and eventually became involved in the London Institution (f.1805 by Sir Francis Baring), a library of scientific works, which also conducted public lectures, albeit in a general direction. Back in Glasgow, Birkbeck's dedicated mechanics course at the Andersonian was continued for a while by Andrew Yure, but the institute preferred to focus on topics of intellectual interest to the middle classes, neglecting the practical course for the working class mechanics.
The first dedicated mechanics institute was launched as the School of Arts in Edinburgh in 1821 by Leonard Horner (brother of Frances Horner). Inspired by their example, the Glasgow mechanics defected from the Andersonian insitute and, with the backing of well-wishers, established their own Glasgow Mechanics Institute in July 1823. That same month, a similar "Mechanics and Apprentices Library" (later Institute) was launched in Liverpool. Still within the year, down in London, George Birkbeck had thrown his support behind a new popular science publication, the Mechanics' Magazine, published by J.C. Robertson. In one of its early issues (Oct 11), Birkbeck wrote of these recent developments and his own past experience in the mechanics course at the Andersonian, and proposed the foundation of a similar institute in London. On Birkbeck's initiative, a public meeting was held in November and the London Mechanics Institute was founded in December 1823, with the support of a panoply of London luminaries, such as Whig politician Henry Brougham, Radical activist Francis Place, philosopher Jeremy Bentham, classical economist Robert Torrens, Ricardian socialist Thomas Hodgskin, journalist William Cobbett and publisher T.C. Hansard. In 1824, more mechanics's institutes and libraries were established in Ipswich, Manchester, Newcastle, Leeds, Lancaster, Aberdeen, etc. The fever took hold, and mechanics institutes would multiply and spread to other industrial towns in the subsequent decade.
Foundation of London University
The project for establishing a proper university in London was hatched in 1825, by Thomas Campbell, a Scottish Romantic poet. Campbell broached the project in a letter to Henry Brougham (published in The Times, Feb 9, 1825). Campbell's original argument was merely that a university in London would be a great convenience to students from the metropolis, saving on the hefty boarding expenses of Oxford and Cambridge, and making a university education affordable to middle class London families. Campbell's intended catchment was the London business community, and pointed to great German urban universities, like Berlin and Vienna, as the model. But Brougham immediately saw a second angle - the London business community contained a very significant proportion of religious minorities, specifically, Protestant Dissenters and Jews, who were blocked from Oxford and Cambridge degrees because of religious test, who could be potentially interested in such a scheme. Brougham arranged a meeting at the London Tavern on July 1, 1825 presided over by the Lord Mayor, and attended by many prominent London figures - Whig political leaders, Philosophical Radicals, Company masters, and a host of businessmen - to listen to the poet's project. To Campbell's idea that a great metropolis needed a great university, Brougham attached the twist that it would be non-denominational. Not only would there be no religious tests, but no religious subjects would be taught. It turned the project into political dynamite (the meeting elicited a satirical poem by Praed in the Morning Chronicle)
From the outset, it was agreed the Oxbridge educational model would not do. Nor would simply copying the Scottish one. Despite their urban locations and the founders' backgrounds - Campbell had fond memories of Glasgow, Brougham of Edinburgh - the Scottish universities still targeted primarily country gentry, rather than urban populations. Brougham dispatched Campbell to Germany to research university models - basically getting him out of the way. Back in London, Brougham essentially took over the project himself, handling the organizing, fund-raising and political furor.
University College London (UCL) was formally founded on February 11, 1826 under the name of "London University". It was set up as a non-denominational school as an alternative to the religious tests of Oxford and Cambridge. Dissenters, Jews and others were accepted at the "Godless college on Gower Street" or the "Cockney College" (as it was popularly referred to). It was frequently regarded as the utilitarian academy, as it counted philosophical radicals as Jeremy Bentham, James Mill and George Grote among its early benefactors, and followed their practical educational philosophies. But it had an equally strong presence of Dissenters among its founders, notably Thomas Wilson and the evangelist Zachary Macauley, and a significant Jewish contingent headed by Sir Isaac Lyon Goldsmid.
Perhaps fittingly, London University was organized as a joint stock company, offering shares at £100 at 4 per cent interest to the public. Widely-subscribed, London University raised an initial capital of £153,000. Government of the university was by a "Council" of 24 members, composed of eminent London gentlemen and patrons elected by the proprietors. The professors were represented by an advisory "Senate", with prerogatives over academic affairs. The Council's first chairman was the Whig politician Henry Brougham then rector at Glasgow, and an economist's favorite, who would preside for the next forty years. Leonard Horner (brother of Frances Horner) was its first warden. The Greek-themed domed main building (variously referred to as the 'Octagon', or 'Bloomsbury' building), designed by William Wilkins, began being constructed on April 30, 1827. The university opened its doors for classes in October 1828.
First decade
The University of London was launched at half-cock, and would remain somewhat chaotic in its first decade. It still had no charter and no parliamentary act, and thus no power to grant degrees. In December 1830, the university submitted a petition to parliament to allow it to grant degrees, and it was on the verge of being granted, when Oxford and Cambridge combined to defeat it.
London University had made the conscious decision to forego the 'Oxbridge' curriculum, focusing instead on 'modern' subjects, like living languages, medicine, astronomy, chemistry, economics, subjects of 'practical' men of science and sense ("promotion of useful learning" was the catchphrase). But Latin and Greek were not abandoned, and there were also chairs in more exotic topics, such as Oriental Literature, Hindustani and Hebrew. (1831 faculty at London)
In a sense, economics was established at the university before the university itself. In 1824, a committee of Political Economy Club members, (which included James Mill, Thomas Tooke and George Grote), raised money to fund a series of paid public lectures in London on political economy in memory of David Ricardo (who had died in 1823). They persuaded John Ramsay McCulloch to deliver the Ricardo lectures, which they anticipated would be conducted with regularity at some rented facility. However, the creation of London University in 1826 prompted a revision of the plan. It was decided that the Ricardo memorial lectures would be translated to that venue, and the lecturer would occupy a Chair on Political Economy at the new university. Formally established in 1828, the Ricardo lecturer John Ramsay McCulloch was naturally appointed the first professor.
Two other initial hires in 1828 were the young logician Augustus de Morgan as Professor of Mathematics and the scientist Dionysius Lardner as Professor of Natural Philosophy (Science) and Astronomy. De Morgan would almost single-handedly carry the fledgling university to new intellectual heights. As it happens, Lardner, together with Thomas Dale (English) and John Williams (Latin), all three of whom were ordained Anglican priests, promptly arranged for the delivery of Divinity lectures - basically in violation of the university's founding principles - and the acquisition of an Episcopal chapel adjoining the main building.
Anatomy seemed to be a perennial problem - the first appointee never showed up. The second choice, Grenville Pattison, was judged sufficiently incompetent to provoke a student revolt and was summarily dismissal by the Council in 1831 In protest at the Council's intrusion in professorial affairs, de Morgan resigned "within twenty minutes".
No less controversial was the appointment of the philosophy chairs. There were two chairs envisaged: a Professor of "Moral and Political Philosophy" and a Professor of "Logic and Philosophy of the Mind". The original candidate for the first chair, Thomas Southwood Smith, (a physician friend of Bentham's) was rejected by the Council on the grounds that a professor of moral philosophy ought to have some training in theology (or philosophy, for that matter - Southwood Smith was a physician; his greater claim to fame would be to later dissect and embalm Bentham's body, producing the "autoicon" which to this day is on display in the main hall of UCL.). The original candidate for the second chair, John Hoppus (a student of Scottish philosopher Dugald Stewart) was opposed by the utilitarian radical George Grote. Grote argued the appointment of Hoppus, an ordained Congregationalist minister, was inconsistent with the university's non-denominational premise. Grote forwarded his own candidate, the jurist Charles Hay Cameron, for the chair, but it was resisted by the Council. So, for the first couple of years, a university ostensibly founded by utilitarian philosophers, did not teach any philosophy at all.
The deadlock was finally broken in 1830, when, availing themselves of Grote's absence, the Council swiftly approved John Hoppus's appointment to the chair of Logic and Philosophy of Mind. Grote resigned in anger, and broke with his old friends Henry Brougham and James Mill. As Grote had been doing a lot of administrative heavy-lifting at the young institution, it did not bode well for the future. Nonetheless, Hoppus would continued to serve as the lone philosopher at the university for the next thirty-five years.
The fledgling university in London had encountered a new challenger almost immediately. The Tory fathers of London decided to counter the "Godless one" by establishing a proper Anglican university - King's College, London - in 1829, armed with a royal charter (something London University lacked). The design of the KCL curriculum and even the admissions policies were practically identical, only religious tests remained for the professors. This cut deeply into London University's attraction and contributed to its financial straits.
And the university was facing serious financial problems indeed. The initial salary offers (a guaranteed £500) to lure the professors had been over-optimistic, and were gradually ratcheted down by exigency (£300, without guarantees). To make up for shortfalls, high student fees were instituted, but this only kept students away.
As financial woes mounted, the relationship between the Council and the professors deteriorated. De Morgan and Lardner had resigned in 1831. McCulloch's courses dwindled and had to be cancelled in 1831 and 1832, leaving McCulloch in a financial bind, nursing a grudge against Brougham and Mill, whom he blamed for mismanagement. In 1834-35 session, McCulloch delivered his last course, to an audience of seven. After McCulloch finally resigned from the position formally in 1837, the economics chair at UCL was declared vacant. (it was poor consolation that King's College discontinued its own economics lectures at around this time too)
Nonetheless, London University managed to hobble along. In 1834, it opened North London Hospital (now University College Hospital) for its medical students. In the meantime, by deft diplomacy, Augustus de Morgan had been lured back in 1836, in the hope that he might infuse some life into the crumbling school. It paid off. A highly popular lecturer and scholar, De Morgan attracted and energized the students and became the paramount figure at the university for the next three decades. He produced several exceptional students, like Isaac Todhunter and E.J. Routh, who would become Senior Wranglers at Cambridge. Many of De Morgan's students would go on to form the London Mathematical Society.
University College
The state of the university had fallen in sufficient disrepair to promote a radical rethinking of its organization. Despite repeated petitions, London University (unlike King's) remained bereft of a royal charter, and thus remained unable to grant degrees. Its stock price had plummeted, trading at £23 by 1836. The 1834 religious tests fracas at Cambridge however softened opposition. There was an evident need for Dissenters to get degrees somewhere, and allowing London to grant them would weaken the pressure on Oxbridge to reform. But opposition now came from the medical schools in London and the Royal College of Surgeons (who did not give out degrees). It was also opposed by King's College London, who did not want to allow London University to monopolize the "University of London" brand.
At length, a compromise was reached with the Whig government of Viscount Melbourne. In November 27, 1836, a new, overarching, degree-granting, examining institution was chartered - the "University of London" - and that same day a separate charter for "London University College" was issued to the previously-named London University. Thus it was only now that London University was renamed "University College London" (to many, still an awkward name). The "University of London" was a Board of Examiners modeled on the Senate House in Cambridge, with the power to examine candidates and confer degrees in three areas - Arts, Law and Medicine - to candidates presenting themselves from only two colleges - University College London and King's College London. However the London charter reserved the right to examine candidates from other institutions ("whether in the metropolis or elsewhere in the United Kingdom") sometime in the future. UCL and KCL continued to be run as independent universities, except for the degree examinations. The overall University of London was to be governed by a Senate of royal appointees. (By an unusual oversight, the charter was granted "by royal will and pleasure", thereby expired a few months later upon the death of William IV in 1837 and had to be renewed by Queen Victoria).
This seemed to signal a new beginning for UCL. But the university started recovering its footing only slowly. By deft diplomacy, Augustus de Morgan was lured back to UCL in 1836, in the hope that he might infuse some life into the crumbling school. It paid off. A highly popular lecturer, De Morgan attracted and energized the student body and became the paramount academic figure at the university for the next three decades. He produced several exceptional students, like Isaac Todhunter and E.J. Routh, who would become Senior Wranglers at Cambridge. Many of De Morgan's students would go on to form the London Mathematical Society. The resumption of political economy did not seem to be of great urgency. Although a public subscription had been raised in 1839 to house David Ricardo's library at UCL, the subject itself went untaught for nearly two decades.
In 1853, Manchester New College, a peripatetic northern Unitarian academy of some distinction, moved to London, and sapped some of the strength away from UCL, particularly in philosophy, where MNC's James Martineau ran rings around UCL's uninspiring Hoppus. A deal was eventually struck, where UCL would specialize in the secular subjects, and leave theological philosophy and related subjects to MNC. UCL students wanting to study moral philosophy in depth would usually just walk across town and sign up for Martineau's courses (as Jevons did, in 1860).
In 1853, Jacob Waley, a former de Morgan student, finally reopened lectures on economics at UCL. Although more of a lawyer than an economist, Waley revived the defunct Chair in Political Economy that McCulloch had left vacant nearly twenty years earlier. (It is instructive that the King's College chair was revived simultaneously by lectures in commercial law.)
1858 Charter
But new radical changes were afoot. In 1858, after nearly a decade of agitation, the charter of the University of London was amended, allowing graduates to form a society, with a say in the administration, including the right to nominate one-quarter of the academic senate. But even more revolutionary was the opening of the university's examinations and degrees to outsiders. On the eve of 1858, the University of London had 37 affiliated colleges, most of them theological colleges of Catholic, Baptist, and other minority denominations. Students of any of these affiliate colleges could sit for University of London examinations and degrees upon presenting proof of two years matriculation at any of the affiliated schools. But in a new measure introduced in 1858, all the London examinations and degrees (except medicine) were opened up to anyone, whether studying at an affiliated college or not. It caused a bit of an uproar at the time, but it was soon settled and the external examination system took root.
In 1866, a new crisis erupted again at UCL. The philosophy professor John Hoppus retired, opening his chair in Logic and Mental Philosophy up to competition again. James Martineau, the professor of philosophy at Manchester New College, was nominated unanimously by the professorial Senate as the best candidate. But, as chance would have it, Martineau was an ordained Unitarian minister. Once again, George Grote, who had returned to the UCL Council in 1849, rankled the anti-clerical chains and blocked Martineau's appointment. Grote forwarded his own candidate, the young and inexperienced George Croom-Robertson (a student of utilitarian philosopher Alexander Bain but who had drawn the greater part of his learning in the German academies).
John Stuart Mill - along with half of the newspapers of London - were drawn into the fray. Although not on the UCL Council himself, Mill was virtually there by association. At any rate, as the pre-eminent living philosopher in England, Mill's opinion was bound to be decisive. In the end, Mill sided with his old friend Grote. In explaining his decision to Martineau, Mill noted that Croom-Robertson "would certainly teach doctrines much nearer" to his own. Mill went on to note that
"opportunities are so few & unfrequent of obtaining for opinions similar to my own their fair share of influence in the public teaching of this country....I shd think myself bound, in the general interest of philosophical thought no less than my own form of it, to give the preference to a candidate ... who would teach my own opinions". (Mill to Martineau, July 5, 1866)
It was not Mill's most honorable moment (even if bluntly honest). Mill's treatises on logic, philosophy and economics, were required reading at Oxford, Cambridge and practically every other school in Britain; it was Martineau's own theoretical bent - Idealism - that was struggling for a hearing.
The decision to reject Martineau was not well-received by the faculty. Although he had no connection with Martineau, UCL's leading professor, Augustus de Morgan resigned in protest on the principle of the matter. Economics chair Jacob Waley called on former students, like Walter Bagehot, to rally in support of de Morgan's stance. But this time, unlike back in the 1830s, Grote would prevail and de Morgan would not return.
Grote himself succeeded Brougham as chairman of the council of the university in 1868. Upon his death in 1871, Grote provided an endowment for the Grote Chair in Logic and Philosophy of Mind, on the condition that it not be held by an ordained minister. In 1876, Croom-Robertson made up for his controversial appointment by helping found Mind, the first English academic journal of philosophy and psychology.
In the meantime, busy at the bar, Jacob Waley resigned from the political economy chair in 1866, and a competition for succession was opened up. The banker-economist H.D. Macleod threw his hat into the ring, but he was too controversial (and too openly anti-Millian) a figure. The chair went instead to one of John Stuart Mill's lieutenants, the Irish economist John Elliot Cairnes. (curiously, Cairnes was allowed to retain his chair at Queen's College Galway throughout his tenure in London). But the sickly Cairnes could hardly bear the strain. T.E. Cliffe-Leslie, then at Queen's College Belfast, stood in for Cairnes' lectures for one year (1869).
In 1867, two more changes were made to the charter: the university was allowed to return a member to parliament and allowed women into the examinations. In 1871, Cairnes took the unprecedented step of allowing women to join the men in his lectures, thus hosting the first co-educational university class in Britain. A supplemental charter in 1878 finally allowed women to receive full degrees.
Cairnes's health faltered, and he retired from the economics chair in 1871. He was succeeded by his old rival and now friend Leonard Courtney (this time Mill's favored candidate - Cliffe-Leslie - had not prevailed). Courtney would hold the economics chair until 1875, when William Stanley Jevons, a former student of De Morgan's at UCL, was appointed. Unable to immediately break his commitment to Owens College, Jevons proposed to have the young Herbert S. Foxwell, one of Alfred Marshall's prize pupils at Cambridge, fill in for him at UCL for a semester.
Jevons retained the political economy chair at UCL until 1880, when ill-health forced him to retire. Herbert S. Foxwell seemed the natural candidate to succeed him. However, Foxwell expressed reluctance to leave Cambridge, where he hoped to succeed Marshall. It is alleged that it was Marshall himself, eager to hold the UCL chair for the Neoclassical school, that persuaded Foxwell to accept the London appointment, on the promise that it would be only temporary and that Foxwell would brought back later to Cambridge upon Marshall's own retirement. But this did not come to pass. The promise was not fulfilled. Upon his retirement in 1908, Marshall passed the Cambridge chair to Pigou instead. Foxwell would remain at UCL until 1928.
Throughout his tenure, Jevons had urged an expansion and deepening of economics, with greater emphasis on the emerging science of statistics. UCL had yet to find an answer to the establishment of the Tooke Professorship and the Statistical Society of London at King's College. This was finally rectified in 1883. Following the death of William Newmarch, a special memorial fund was created for a "Newmarch Lectures on Economic Science illustrated by Statistics" at UCL, with a modest emolument of £60 contingent on the delivery of six annual lectures. Unlike regular courses, the Newmarch Lectures was open to the general public. Notionally, the professor of economics (i.e. Foxwell) was the supposed to deliver the Newmarch lecture every year, but could appoint someone else as "Newmarch Lecturer" in his place. Foxwell chose to deliver all the Newmarch lectures up to 1890. Francis Ysidro Edgeworth, was the first outsider appointed Newmarch lecturer in 1891.
The University of London entered into an identity crisis during the 1870s and 1880s, with the expansion of so many constituent colleges outside of London - including in the British empire, in Sydney (f. 1850) and Bombay (f.1857). The relationship between the university and the colleges, between the examining function and control of teaching, was a mess. Both UCL and KCL contemplating seceding from the London system, and founding a new university on their own (among various names floated was "Gresham University"). The British government set up multiple inquiries - the Lord Selborne Commission (1888-89), the Cranbrook Committee (1891) and the Earl Cowper Commission (1892-94) - to resolve the question, but failed to come up with a acceptable solution.
Sidney Webb broke the impasse after the creation of the London School of Economics (LSE) in 1895. He proposed the solution of a two-decker system, whereby the colleges were to retain control at the undergraduate level, but the faculties and board of studies would be intercollegiate. Post-graduate study was to be in the hands of a professoriat concentrated in one or two higher faculties.
In 1886, professors were allowed into the Council for the first time. In 1900, the London School of Economics, which had been founded five years earlier, was admitted as a constituent college of the University of London. In 1901, Foxwell sold his massive economics library (some 40,000 volumes) to the Goldsmiths' Company of London, which promptly donated it to UCL (Foxwell went on to amass another collection of 20,000 volumes, but this second library was later sold to Harvard, forming the Kress Library)
(to be completed)